Scott R. MacKenzie Foundation awards $350,000 in support of two-year clinical trial
Diana Azzam, a researcher in the Robert Stempel College of Public Health & Social Work, will collaborate with Cleveland Clinic Florida on a study to find new treatment options for cancer patients.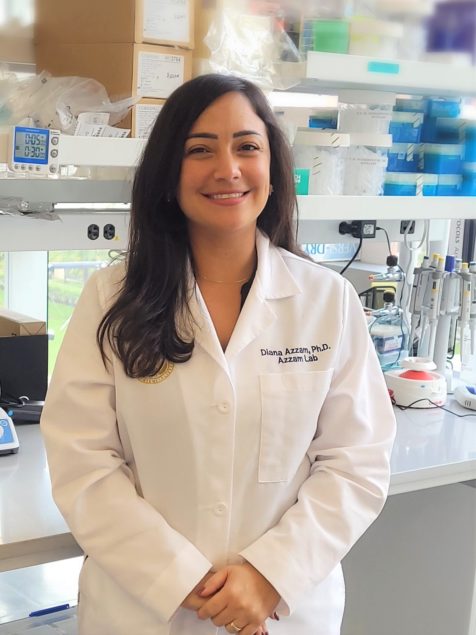 The research, funded by a $350,000 grant from the Scott R. MacKenzie Foundation, focuses on the clinical utility of drug sensitivity testing and genomic profiling to treat sarcomas, one of the most common types of aggressive, malignant tumors.
Azzam, assistant professor in the Department of Environmental Health Sciences, will test the efficacy of a series of clinically approved compounds on tumor tissue samples. The drugs she determines to be most effective on the patient's tumor cells will be used to guide treatments in the clinic.
The study, the first that FIU has conducted with Cleveland Clinic Florida, will recruit advanced adult sarcoma patients, and follow up with them over two years to assess their clinical outcomes. After completion of the study, results will be used to implement functional drug testing in larger scale precision medicine clinical trials.
"Functional precision medicine approaches are critical to match the right patient and right sarcoma with the most effective treatment to improve outcomes," Azzam said.
For more than a decade, Azzam has conducted translational cancer research, focusing on the development of novel and more effective approaches for cancers that are difficult to treat. Her goal is to adopt drug sensitivity testing in cancer patients to guide clinical decision-making while also providing novel therapeutic options for patients.
"I am particularly interested in this project as it aligns with personalized healthcare strategies for Cleveland Clinic," said Dr. Jorge Manrique Succar, head of the sarcoma program at Cleveland Clinic Florida.
The Jacksonville, Florida-based Scott R. MacKenzie Foundation funds leading-edge human genetic sequencing and research (DNA, RNA, protein) to advance cures for cancer, lung disease, diabetes and heart disease.
"Our niche is providing funding very early on to researchers who show promise, but might not yet qualify for funding from larger sources, such as NIH. We believe this project with FIU closely aligns with our overall mission of finding cures and look forward to watching Dr. Azzam's research unfold," said Scott MacKenzie, chairman and founder of The Scott R. MacKenzie Foundation.