Prasugrel Versus Ticagrelor in Patients With CYP2C19 Loss-of-Function Genotypes
Results of a Randomized Pharmacodynamic Study in a Feasibility Investigation of Rapid Genetic Testing
Francesco Franchi, MD, Fabiana Rollini, MD, Jose Rivas, MD, Andrea Rivas, MD, Malhar Agarwal, MD, Maryuri Briceno, MD, Mustafa Wali, MD, Ahmed Nawaz, MD, Gabriel Silva, MD, Zubair Shaikh, MD, Naji Maailiki, MD, Latonya Been, AAS, Andres M. Pineda, MD, Siva Suryadevara, MD, Daniel Soffer, MD, Martin M. Zenni, MD, Theodore A. Bass, MD, Dominick J. Angiolillo, MD, PHD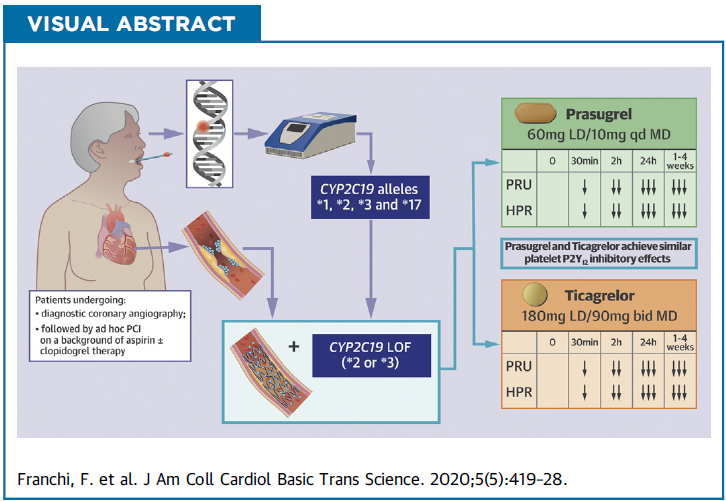 HIGHLIGHTS
Our study supports the feasibility of using rapid CYP2C19 genotyping among both patients with stable and acute coronary syndrome undergoing diagnostic coronary angiography, with intent to undergo ad hoc PCI, in real-world clinical practice.
Rapid bedside genetic testing assay allows for very rapid turnaround times of results, with patients approached the same day of their procedure and availability of CYP2C19 genotypes within 1 h of sampling and before patients undergoing PCI.
Among carriers of CYP2C19 loss-of-function alleles undergoing PCI there were no differences in levels of platelet inhibition between prasugrel and ticagrelor (loading and maintenance dosing).
From the University of Florida College of Medicine-Jacksonville, Jacksonville, Florida. The present study was funded by an investigator-initiated grant from the Scott R. MacKenzie Foundation for genome research. Spartan Bioscience provided the Spartan RX system and the reagents used free of charge. These entities had no role in study design conception, conduct of the study or decision to publish these results. Dr. Franchi has received payment as an individual for a consulting fee or honorarium from AstraZeneca and Sanofi. Dr. Rollini has received payment as an individual for a consulting fee or honorarium from Chiesi. Dr. Pineda has received payment as an individual for consulting from Edwards Lifesciences; and educational institutional grants from Abbott, Boston Scientific, Medtronic, Edwards Lifesciences, and Gore Medical. Dr. Angiolillo has received consulting fees or honorarium from Abbott, Amgen, Aralez, AstraZeneca, Bayer, Biosensors, Boehringer Ingelheim, Bristol-Myers Squibb, Chiesi.